Home > Trending > Pandemic Health

5 Steps For Health (Even During A Pandemic!)

So many of us are looking to support our immune health and just our health in general during this time. Read on for our top 5 tips!

May 28th 2020 at 16:33 PDT
To be successful, you must decide this for yourself repeatedly. It must become clear in your mind that health is important to you, that it is crucial for your well-being. Focus on this solely, as your first step: get clear that you want this.
Without clarity, without the deep understanding that you want health, it will be easy to fall back into old patterns.
Take the time to slow down in the evenings prior to going to bed by creating a relaxing routine. Things like journaling, reading a novel, or taking a warm bath can help train your body that it's time for sleep while helping you to release the stresses of the day and calm your mind.

And try your best to maintain regular wake and sleep times — even on the weekends and even during a pandemic. The routine is good for your body and is often helpful for your mindset too!
It may be cliché, but here it is: Eat Healthier Foods! The thing is, once you have the first two steps down, I think this step is so much easier! Your body can thrive on nutrient-dense foods — those foods that can provide it with what it needs to function properly.

Keep reminding yourself that health is important to you, that it is something you want, even when it requires the extra work!
Make sure to follow your state's social distancing protocols, avoid touching your face, and wash your hands thoroughly & regularly.

If you are able to spend time outside, make sure to wear a face cover to help prevent the spread of germs.

Right now, we are running a 50%-off sale for our 100% Organic Face Covers. Unlike other masks, these are chemical-free.
Due to the heavy demand, there is currently limited stock available. To get yours, tap the button below.
Find a way to move your body for 30 minutes every day. The internet has a wealth of free videos that can guide you in yoga, dance, or other aerobic or strength training exercises. If accountability is a problem, try video chatting with a friend who is also focusing on fitness right now while you both exercise.


Your exercise goal will be easier to accomplish if you find an exercise that doesn't feel boring or frustrating for you. Running isn't for everyone! What doesn't work for someone else, may work very well for you. Find something that feels good to you. You'll be more likely to accomplish your goals if you make it fun! (Just make sure you're following social distancing protocols and staying safe.)
THE WELLNESS JOURNEY OF MARYRUTH

Built on the desire to support others on their health journey, MaryRuth's is the passion project of MaryRuth Ghiyam, Certified Health Educator, Nutritional Consultant and Culinary Chef. MaryRuth was inspired to learn how people could use nutrition to live longer, healthier lives. 


While working one-on-one as a nutritional consultant, she noticed a gap in the supplement industry; it prompted MaryRuth to formulate a wholesome multivitamin, with vegan, non-GMO ingredients, safe for the entire family to take.
Her vision has grown into an entire line of liquid supplements & probiotics, capsules, gummy vitamins and, last but not least, face and body products.


MaryRuth believes in health as a component of the good life and that in having health, we can accomplish our goals. Just as these dark, life-changing events MaryRuth experienced moved her to create an incredible product line, so MaryRuth's is here to support you in your health journey, so you can achieve your dreams. 
We believe that our bodies should get nutrients from the food we eat, the water we drink & the sun that shines down on us, but we know that there are obstacles. We want to empower you, with MaryRuth's products as your support system, to take your health into your own hands.


MaryRuth's is a mission-oriented company: we're passionate about making powerful supplements to support health, products we believe in, products to bolster you as you grow your dreams into realities. But we also believe that health should be accessible to everyone, which is why:


Above all else, we promote practical steps toward health before promoting product.


We believe that making the best supplements for your health means creating products with non-GMO, plant-based, vegan ingredients, with the fewest number of allergens as possible. We do our best to find only the highest quality ingredients and to formulate great tasting products to aid your body on your way to wellness!


We listen to our customer's requests & feedback to create the best products we can!

We offer our Happiness Guarantee because we believe that no one should have to pay for product they're not satisfied with; it's a no-hassle, money-back promise, from us to you!  
"We believe that making the best supplements for your family's health means creating products with non-GMO, plant-based, vegan-ingredients, with the fewest number of allergens possible."

-
MaryRuth Ghiyam

, Founder & Nutritional Consultant

The 'Pursuit of Wellness' can seem daunting, but your health and life goals are connected in practical ways. Nutrition is integral to living well: if you have your health, you'll be able to achieve your goals.

Moving toward wellness can be as simple as drinking enough water and getting better sleep. In other words, achieving your goals is connected to drinking water and sleeping well, and the overall care of your body.


But when we live such busy lives, or if we have health challenges or dietary restrictions, it can be hard to get the nutrients necessary to maintaining that health.  


And that's where MaryRuth's comes in: we're here to help motivate the very small steps toward health, so you can take the bigger steps toward achieving your dreams.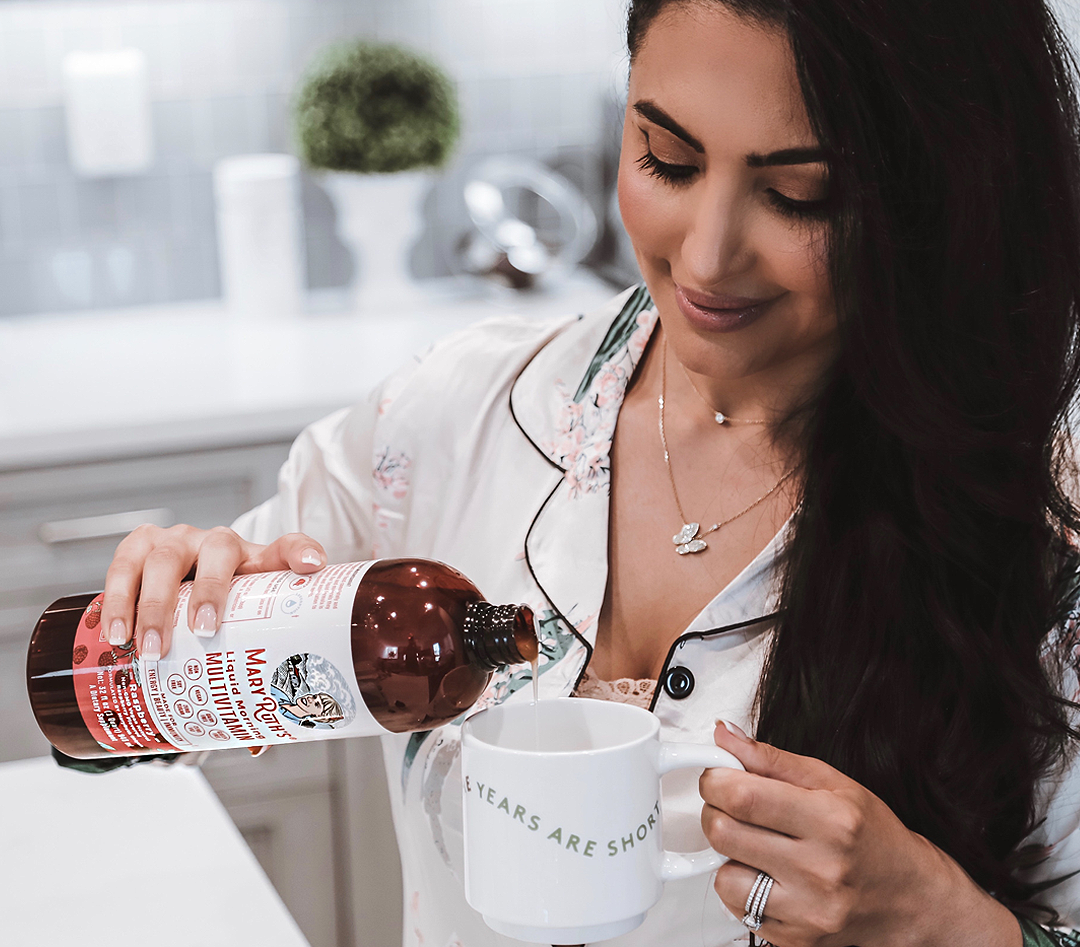 Why do we do what we do? Bottom line: we care about your wellness!

"These products have made a huge difference in my health for the better. I get compliments about how fresh and clear my face looks. I have energy during the day and sleep peacefully at night."
- Susan Montgomery ⭐⭐⭐⭐⭐

HERE'S WHY FAMILIES CHOOSE MARYRUTH'S

"I love these vitamins! They are giving me my energy back!"

⭐⭐⭐⭐⭐ - Claire Metzler
"Today I got my morning and night bundle and the morning for my daughters. I instantly noticed a rush of energy as soon as I took it that lasted until the afternoon! Can't wait to try the night minerals tonight! Definitely not cheap but I'm willing to pay for quality. Luckily one bottle of the morning vitamins will last my girls the whole month!"

⭐⭐⭐⭐⭐ - Jimena Jolley
"I love your daytime vitamins. I used to be tired most of the time. When taking these vitamins I'm totally energized. I now have my mother and boyfriend taking them."

⭐⭐⭐⭐⭐ - Jackie Tayborn
"My baby loves the taste of the multi😭❣️thank you Mary Ruth!"

⭐⭐⭐⭐⭐ - Tringa Brunetti
"The liquid probiotic is ah-mazing. Zero taste, zero aftertaste, zero texture. Love it! My kid and I use the sprayer, directly into our mouths lol. To be honest, I have 2 of the vitamin K drops, and the D3 gummies, also. I do use and love them all but the probiotic is my favorite right now. I'd love to try more products down the line, as I can afford."

⭐⭐⭐⭐⭐ - Jamie Emkay
"I hate swallowing big pills, so I absolutely love that you have all kinds of liquid and gummy options available! I can't wait to start all of my supplements! And of course I love the quality of ingredients as well. I feel like you can't go wrong with any of your products."

⭐⭐⭐⭐⭐ - Lisa Browning